Since the mid-15th Century, when players would hit a pebble around a natural course of sand dunes and rabbit runs, Europeans have been fanatical about golf! Scotland may have been the birthplace of the sport we know and love today, but the rest of Europe quickly embraced the pastime, adding their own continental flair and charisma to the game.
Jump forward some 600 years and that passion is still very much alive. Europe is a golfer's paradise, with an abundance of courses to offer, some of which are heralded as the very best in the world. The phrase 'spoilt for choice' couldn't be truer here; with so much to offer, which do you pick? It's a wonderful problem to have, but a quandary none the less! Thankfully, we've taken the 'hard' work out for you, so we are delighted to give you our Top 10 Golf Courses in Europe.
10. Chantilly Vineuil, France
Just one hour north of the capital of chic, Paris, you will find the verdant haven of Chantilly (yes, where the cream was created). This majestic yet elegant town exudes an air of decorum and finesse, where you would be forgiven for thinking that you'd been transported back to Renaissance France.
Apologies for the rather verbose 'travel-guidesque' introduction, but it would be almost impossible to describe the first course on our list without putting it into context. The regal town of Chantilly plays home to the equally refined 'Vineuil'. This course is often voted 'the best in France', and is where you will find possibly the most 'sophisticated' type of golf course in Europe.
Originally developed in 1909, by flamboyant English architect Tom Simpson, it has played home to numerous French Opens and was where George Duncan fought his way to the competition's highest ever score of 304. But don't be fooled by Duncan's performance, the course of Vineuil is a tough test of golf!
Image courtesy of membres.golfdechantilly.com
9. Les Bordes, France
We are now heading south from Paris, where we move from one elegant course to the epitome of French style. If golf courses were like fine wine, this next course is a rare vintage. Les Bordes is possibly Europe's most exclusive course, where the rich and privileged swill rare whiskies in the classy 'Club du Baron'. Membership here will set you back a cool €1 million per year, so make sure you pack your credit card for this trip!
But don't let the 'high-class' edge of this club deter you; Les Bordes is not all about Dom Perignon and Beluga Caviar, it's about experiencing one of the finest golf courses in the world.
Meticulously designed by the late, legendary golf course architect, Robert von Hagge, in 1986, Les Bordes was built with tranquillity in mind. The manicured fairways run through fairy-tale woods and bend around placid lakes and misty-mounds. It may sound romantic, but in truth it's notoriously a challenge, but one well worth taking on.
Image courtesy of lesbordes.com
8. PGA Cataluña Stadium, Spain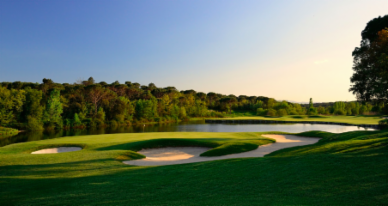 Image courtesy of pgacatalunya.com/golf
If you've had your fill of fancy French courses, you may want to try your hand at Spain's numero uno, the 'PGA Cataluña Stadium'.
Situated in the historic and gastronomically famed region surrounding Barcelona, the 'Stadium' course is a tough, but frustratingly addictive, test of your golfing prowess. The landscape is breath-taking but the going is hard, with trees pressing onto fairways and cunningly placed bunkers and lakes that feature on no less than seven of the toughest holes.
PGA Cataluña Stadium is a refreshingly modern course, which first opened in 1999 after a decade of planning. Within its first year it hosted the Gene Sarazen World Open and the Spanish Open in 2000. Since then it has been a popular course of golf veterans and professionals alike, and is currently vying for the privilege of hosting the 2022 Ryder Cup.
In my opinion, this course should be featured on every golfer's list, as it's an absolute gem!
7. Koninklijke Haagsche, Netherlands
The next course on the list will appeal to all of you conservationists out there. Nestled near the coast, south of Amsterdam, Koninklijke Haagsche is not just a golf course, it's an eco-warrior!
The Haagsche is 'committed to green', meaning that they respect the nature surrounding their course and optimise the management of their environmental habitat. This means that the local wildlife is a common sight on Koninklijke Haagsche.
Nature is definitely the theme here, with an undulating dune landscape and overgrown roughs. It's tough, but it offers some incredible and unique views, as well as some surprising challenges along the way!
Another defining feature of Koninklijke Haagsche are the slightly larger bunkers that were designed by C H Alison in 1938. However, it's the famous golf course architect, Harry Colt, who is credited with creating what is known as 'one of the finest courses in Europe'.
Image courtesy of www.khgcc.nl
6. European Club, Ireland
Celtic clubs have made somewhat of a name for themselves in the golfing world; no surprise really, since the game was first born on the outskirts of Fife, Scotland. So it won't come as a shock that there are no less than 5 Irish courses on this list of Top 10 European Golf Courses (their Scottish, Welsh and English 'rivals' can be found in our upcoming article called 'Top 10 UK Golf Courses').
So let's tee off with the first: The European Club, which is just 35 miles south of Dublin. This stunning course, designed and continually revamped by Pat Ruddy, is ever evolving, meaning that it consistently meets the challenges of the modern game. Back in 2006, Rory McIllroy said "This is probably the best links course I have ever played and I include Royal St. George's, Royal Portrush and Royal County Down in that." Well, if it's good enough for Rory, then it's more than good enough for us!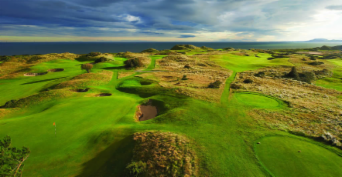 The course features twenty holes, dramatic, tumbling sand dunes and staggering views of the wild Irish Sea. It really is an immaculate course that expertly captures the essence of its surroundings.
Image courtesy of theeuropeanclub.com
5. Waterville, Ireland
The next Irish course on our list is County Kerry's 'Waterville'. County Kerry forms the southwest peninsular of Ireland and is known for its striking terrain of rugged coasts, ancient oak forests and mountains. It also epitomises rural Ireland: full of cosy pubs and a warm, welcoming feel.
The Waterville course itself encapsulates these qualities and gives golfers a real taste of the Emerald Isle. The course is surrounded by sea and combines the beauty of the classic link-land, which is constantly changed by the elements. It's also over 100 years old, which frankly only adds to its character.
But it's not just beauty and charm here: the course is award winning. Waterville is honoured to be included amoungst the very prestigious link golf courses in all golf surveys. It's also been rated amoungst the top twenty link courses in the world and it is regularly frequented by the likes of Tiger Woods and Mark O'Meara, who praise its perfection.
Image courtesy of watervillegolflinks.ie
4. Portmarnock Championship Course, Ireland
Before we head back over to mainland Europe, there's time to squeeze in one more Irish course.
Just a short, 15 minute drive from Dublin airport you will find Portmarnock Golf Club, home of the famous Championship Course. Framed on 3 sides by the sea, this beautiful course is constantly at the mercy of the wind, making it breath-taking and heart-breaking all at the same time!
The club was founded on Christmas Eve 1893, when an insurance broker named W.C Pickeman and his friend George Ross rowed over to the peninsular to explore the terrain. After deeming the landscape to be perfect for golf, the initial nine holes were opened on St. Stephen's Day 1984. It was extended to eighteen holes in 1896 and extended again in 1971. The Championship Course follows the original lines, formed over 130 years ago, but is now world renowned and has played home to some important tournaments such as the Canada Cup, Walker Cup and British Amateur Championship.
Over the past 130 years, the course has welcomed some of the greatest players to have lived such as Harry Vardon, Henry Cotton, Bobby Locke and Arnold Palmer. In recent years the likes of Padraig Harrington, Rory McIllroy, Phil Mickelson, David Duval, Paul McGinley and Tiger Woods have all graced the pristine fairways.
Image courtesy of portmarnockgolfclub.ie
3. Morfontaine Grand Parcours, France
We're now into the top 3 golf courses in Europe, and it's time to hop back over the pond to France.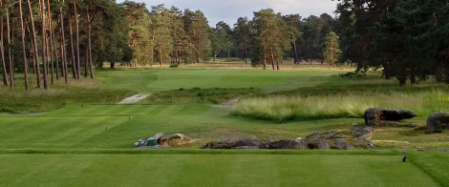 Designed by Tom Simpson, 'Le Grand Parcours' (or 'Grand Course') was inaugurated on October 9, 1927. Located on the northwest boarder with Luxembourg, the course has a distinctly Germanic feel, with a bolder-packed terrain and tall birches dominating the landscape.
I wouldn't say that Morfontaine is the most aesthetically pleasing course, but the undulating greens and plentiful bunkers, challenge your golf tactics and boost your strategy making skills. This is possibly why the course regularly holds prestigious competitions like the International Ladies Trophy of France Cécile de Rothschild and the European Mid-Amateur Championship.
Personally I would say that this is France's most exciting course, and many would agree, as it is often ranked as Continental Europe's best course and provides a golfing experience that few courses can match. But the Grand Parcours is only half of the experience; if you are lucky enough to befriend a member, you could be treated to the magic of 'La Vallière'. This hidden 9-hole gem was actually the club's original layout and offers those lucky enough to experience it an unforgettable round of golf.
Image courtesy of golfdemorfontaine.fr
2. Lahinch Old Course, Ireland
Back to Ireland now for the course coming in at number 2 on the Top 10 Golf Courses in Europe. The quintessentially Irish town of Lahinch in County Clare at first appears to be a pretty seaside-town, where you can relax and enjoy some warm hospitality on one of their notoriously chilly days. And you wouldn't be wrong to think that, but the shaggy dunes of Lahinch hold a world famous secret.
In 1892 Alexander W. Shaw and Richard J. Plummer set out to create the prestigious Old Course at Lahinch Golf Club. Over the years, the holes and course layout were completely rerouted, bringing the entire Old Course, exposing it to the wild elements of which coastal Ireland is famed.
The course today has been heralded as the 'St. Andrews of Ireland' and draws players from all over the world to its fabled, formidable tees and unforgettable course artistry. Members even include the likes of Phil Micklelson and Brad Faxon; in fact, the American touring team use this course to tune up for the British Open.
First time players are in for a roller-coaster of a time and will truly savour every shot. However, I would recommend that you hire a caddy- the going is tough and full of quirks that require some good counsel!
Image courtesy of lahinchgolf.com/golf-courses/old-course
1. Ballybunion Old Course, Ireland

We've finally made it to number one and, no surprise, it's Irish!
The legendary Tom Watson once said "Nobody can call himself a golfer until he has played at Ballybunion; you would think the game originated there." A bold statement, but one that is completely justified.
Established in 1893, the Old Course at Ballybunion, just outside of Limerick, is one the most famous courses in Europe, if not the world. Like all Irish link-courses, it goes without saying that this course has natural beauty in abundance, but the Old Course at Ballybunion has a secret ingredient that ensures it is consistently ranked in the top 20 courses on the planet.
The rugged and closely packed dunes on the course mean that you will never have to flat putt on any of the holes; the long grass is your next challenge, and the breeze of the Atlantic your third test. To compound this though, you've got tees perched on cliff edges (the 7th' Castle Green') and tee shots between tight, towering dunes. It really is a supreme test of golf but don't let it intimidate you; it's actually forgivingly fair and rewards a wide range of players.
Image courtesy of ballybuniongolfclub.com/courses/the-old-course
So there we have it, the Top Ten Golf Courses in Europe. The reality is that we are blessed in Europe with an extensive selection of courses and golf clubs, each competing to be the best and constantly striving to improve what they can offer. I hope this guide has given you some food for thought and maybe even spurred you on to book your next golf holiday. We're always eager to hear from you, so if you'd like to share your personal European favourites please get in contact at hello@dreamretirement.com
Join us next time when we will be looking at the Top 10 Best Golf Courses in the UK.
---
Getting older might make you feel like you are slowing down. Do not be fooled into thinking this is cognitive decline, you have so much information in your brain that it takes more time to access it! You can be stronger and happier in your retirement than ever before. Life is an adventure, you can expect change and embrace it. Learn the right time to retire, how to boost your retirement income and create your dream retirement. Follow your dreams and love what you do!
We have FREE and wonderful tools to empower you to make the right financial decisions and maximize your retirement. Get started towards your dream retirement FREE TODAY!
Enjoy your very own FREE copy of Charlie Reading's Book, The Dream Retirement, How to Secure Your Money & Retire Happy. This book is an inspirational guide for turning your new life into a fantastic, fruitful and gratifying existence. Find out how to maximize your money and make it work hard as possible for you, without unnecessary risks so you can enjoy your later years stress free! Register for your FREE Dream Retirement book NOW!
Ensure for FREE TODAY that you are fulfilled and rewarded by balancing your time in retirement! CLICK HERE NOW and register for your FREE Dream Retirement Roadmap complete with exercises and practical strategies to guide you into your very own dream retirement!
MEET Dream Retirement expert, Charlie Reading, FREE for a one-on-one Dream Retirement Consultation (value at £487.00) and create a strategy to ensure you maximize your wealth and that you don't run out of funds. Uncover ways to stay young and healthy for longer and achieve years of happiness! Time is limited, so CLICK HERE NOW to register for your FREE CONSULTATION!
Prev
The Accumulation Stage